Spring 2022 College Signing Day: 13 Athletes
May 6, 2022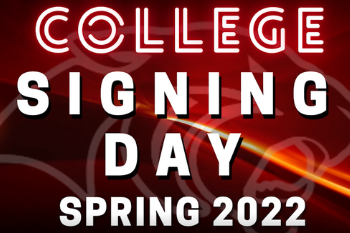 The Cabot Athletic Department held a college signing ceremony for thirteen student-athletes May 4th in the Cabot High School Panther Arena.

Family and friends joined each student as they said a few words of gratitude for their coaches, family, and friends before announcing where they would be continuing their academic and athletic career.

Congratulations to Cole Eason (Wrestling - OBU), Micah Morrison (Football - Lyon College), Baylee Jost (Track/CC - Wittenberg University), Karis Martin (Track and Cheer - OBU), Jasmine McDonald (Athletic Training - ASU), Eliza Derryberry (Volleyball - Central Baptist College), Hayden Prewitt (Baseball - SAU Tech), Conner Titus (Baseball - Highland CC), Kaden Smith (Baseball - SAU Tech), Brianna Garriga (Softball - ASU), Adreya Braddy (Softball - ASU), Paige Peirpoint (Softball - ASU), and Landon Hardister (Swim - Hendrix).
Wrestling - Cole Eason, Football - Micah Morrison, and Track/CC - Baylee Jost and Karis Martin.
Softball: Paige Peirpoint, Adreya Braddy, and Brianna Garriga. Athletic Trainer - Jasmine McDonald and Cheer - Karis Martin.
Volleyball: Eliza Derryberry and Swim: Landon Hardister. Baseball: Hayden Prewitt, Kaden Smith, and Conner Titus.
Congratulations students!