Support For Military Families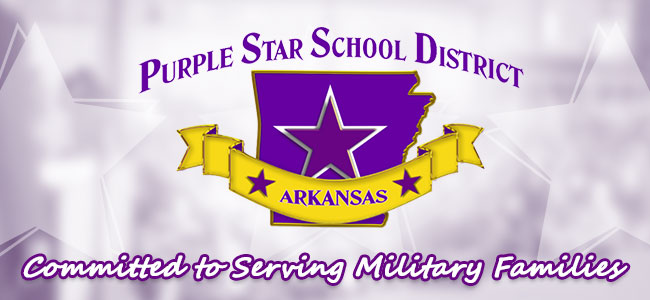 The Cabot School District is dedicated to supporting our military students and families. Approximately 1,000 military children are enrolled in the Cabot School District.
We appreciate the sacrifices our families make each and every day. The district is committed to serving students of our military heroes and supporting them both emotionally and academically.
Cabot Public Schools is proud to be designated the first Purple Star School District in the state by the Arkansas State Council of the Military Interstate Children's Compact Commission for our commitment to supporting and serving military children and their families.

The district has two dedicated Military Liaisons, Deputy Superintendent Michael Byrd and Director of Counseling Emily Taylor, to provide any necessary support for our military families. Our school counselors also serve as point of contact for our military families. They have been trained to specifically assist families in any situation military students may face including, constant relocation, enrollment, eligibility, graduation requirements, to dealing with a deployed parent.
Contact CPS Military Liaisons:

Michael Byrd, Deputy Superintendent - 501-843-3363 Email Me

Emily Taylor, Director of Counseling - 501-843-3363 Email Me

You can also contact your child's school counselor at any time.
List of Counselors
Cabot School Board of Education Resolution of Support for Military Children and Families
WHEREAS, more than 9,000 Arkansans exhibit profound courage and selflessness by serving in the armed forces;
WHEREAS, Cabot is home to a large number of military families due to its close proximity to the Little Rock Air Force Base;
WHEREAS, over 1,000 military children are enrolled in the Cabot School District;
WHEREAS, military children are often affected by military transitions and parental deployment;
WHEREAS, the family unit is an essential source of support and encouragement for armed service members;
WHEREAS, military children should be celebrated for the sacrifices they make and the courage they display as the children of our nation's armed service members;
NOW, THEREFORE, BE IT RESOLVED, that the Cabot School District School Board recognizes and salutes military children and expresses its support for military children and families.
---
Resources for Military Families
Arkansas Department of Education Go to Site
Military One Source Go to Site
National Guard Joint Child & Youth Services Go to Site
Little Rock Air Force Base Go to Site
Military Child Education Coalition Go to Site
U.S. Department of Defense Education Activity Go to Site
National Military Family Association Go to Site
Military Kids Connect Go to Site
---
Military News Articles & Media Coverage
Seven Cabot Schools Designated Purple Star Schools

Cabot Middle School South Service Learning Students Send Care Packages For Our Military Heroes
CHS AFJROTC Students Participate In AR Run for the Fallen

April: Month of the Military Child 2018
Cabot Schools Honor Military Heroes On Veterans Day 2017 - Photo Albums
Military Dad Surprises Three Sons at Mountain Springs Elementary
Central 4th Grader's Patriotic Message
Technology Connects CFA Students With Military Father On Special Day
AR Fallen Hero Traveling Memorial Displayed At Cabot High School
Two Cabot Students Reunited With Military Dad
"Wreaths Across America" Honors Fallen Heroes at Cabot High School
---
Each year, the Cabot School District is proud to honor our military heroes during Veterans Day events recognizing the sacrifices made by our active and former military community members.