Q & A Spotlight on Cabot School Board Member Mark Russell
May 29, 2012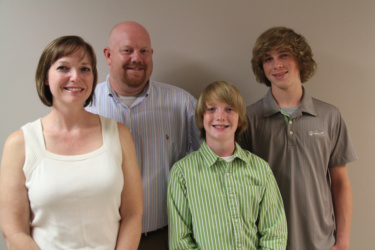 Mark Russell is Secretary of the Cabot School Board.
Russell and his wife Tracy have two sons, Hunter and Jared, who both attend Cabot schools. Russell graduated from Cabot in 1991 and completed his college education at UALR.

He currently works as the purchasing manager at Lomanco, Inc. Russell and his family attend the Cabot Church of Christ, where he is head of communications. In Russell's spare time he coaches youth football and basketball.

1. In your opinion, what are the strengths of Cabot Public Schools?
A dedicated staff, involved parents and great support from the entire community.

2. Why do you believe it is important to serve on the Cabot School Board?
I think it's important to give back first of all, secondly as a lifelong resident and proud graduate of Cabot schools, I want to be a part of making sure that the tradition of excellence is maintained by our district.

3. What areas do you believe the district needs to focus on for future development/growth?
The middle grades from 5-9 are our pressing space needs. Fortunately, we have already started a project that will not only give our junior highs some relief, but also allow us to better serve our districts' students.

4. Where do you see the district in the next 5 years?
We'll continue to improve and also continue to be a leader in education in the state. Our educators have done a wonderful job of embracing new strategies and technology as it comes along, and as a board, we've always been willing and will continue to support any innovation that will enhance the classroom learning experience.

5. What are you most proud of in the Cabot School District?
The people. There are so many in the community, as well as district employees who don't get enough recognition for the things they do for our schools. We have churches that collect money for backpacks so that students who can't afford supplies will have them. We just had the Scholarship Foundation banquet where over $70,000 was awarded though gifts from the community, faculty, and staff. And there are countless other good things that most are never aware of done by our staff, as well as other in our community. These things are what I'm most proud of and why I'm always proud to say I serve on the Cabot School Board.