Technology Connects CFA Students With Military Father On Special Day
August 30, 2016
It was an emotional day for two Cabot Freshman Academy students. Last Friday, twins Casee and Connor Malone were at school when a special ceremony for their father was taking place more than a thousand miles away. Fortunately, they didn't have to miss it.
After more than 20 years, Master Sergeant Victor Malone retired from the United States Air Force. He served as a paramedic and Casee and Connor were able to take part in their father's special day through FaceTime.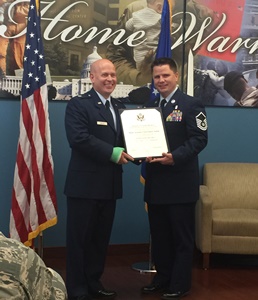 The Malone family recently moved back to Arkansas. With school just starting, mom Ladonna, twins Casee and Connor, and 5-year-old Cara weren't able to travel back to Maryland for the retirement ceremony. Casee and Connor talked to Principal Spillane about the situation and she didn't want them to miss out. Thanks to technology, they didn't have to. They could see their father and even talk to him.
Casee and Connor were born in Arkansas. After four years, the family moved to England, then to Andrews Air Force Base in Maryland. At the end of summer, right before school started, they moved to Cabot.
Casee says they are very proud of their military hero and being able to watch their dad's retirement ceremony was extremely emotional. She's grateful for the opportunity to witness it and she's glad her family will be able to settle down back in Arkansas.