Military Dad Surprises Three Sons at Mountain Springs Elementary
January 25, 2018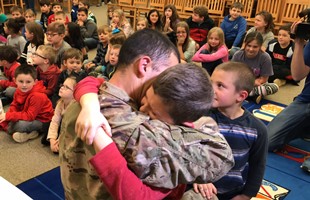 Three brothers at Mountain Springs Elementary received a HUGE surprise. Rhys, Paxton, and Maddox's dad, Air Force MSgt Juan Salazar, came home early after a six month deployment to Kuwait.
The boys thought their dad was returning home Sunday, but instead he surprised them a few days early. They were in shock when their dad walked into their school media center. After a few seconds, they ran into his arms crying. Maddox whispered to his dad, "Don't leave." Mom Ashley Salazar and one-year-old sister Emersyn also joined the happy reunion.
Thank you MSgt Salazar for your service. We're happy you are home with your family!