College Signings: Fall 2020
Nov 13, 2020
The Cabot Athletic Department held a college signing ceremony for five student-athletes on November 11.
Immediate family joined each student as they said a few words of gratitude for their coaches, family, and friends before announcing where they would be continuing their academic and athletic career.
Congratulations to Katie Atkinson (UCA – Volleyball), Jessica Bongfeldt (Swim - Henderson State), Kyler Carmack (Baseball - Arkansas State), Savannah Snow (Softball - Arkansas Tech University), and Kaitlyn Theobald (Basketball - Harding University)
The first signee was Katie Atkinson. Katie will play Volleyball for the University of Central Arkansas Bears next fall. Katie said she loved the volleyball program and coaches at UCA and it is still close to home. She is ready to gain more independence with this new chapter of her life. Katie plans on studying Biology and Nursing while at UCA.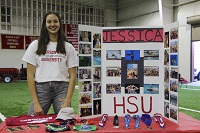 Our second signee was Jessica Bongfeldt. Jessica is excited to sign with Henderson State for Swimming. Jessica has done very well as a member of the Cabot Panthers Swim Team and her senior season just began. She is looking forward to another great season! While at Henderson State, Jessica plans to major in Chemistry with an emphasis in Pre-Med. She is looking forward to meet new people and to compete at the college level.
Kyler Carmack will play baseball for Arkansas State University! Kyler is a multi-sport athlete and is a top competitor on and off the diamond and field. Kyler is excited for this new challenge and chapter while attending Jonesboro. Kyler plans on majoring in Business that will help lay the foundation for his future.
Arkansas Tech University will gain our next student-athlete, Savannah Snow. Savannah has been playing softball for numerous years and while it will be hard to leave Cabot, she is looking forward to this new phase of her life. Savannah liked ATU when visiting and deciding on the school and plans on majoring in Education.
Our final signee was Kaitlyn Theobald. Kaitlyn has committed to play basketball at Harding University next year. Both of Kaitlyn's parents are alumni so the campus just felt like home to her. She is excited to meet her new team and building new relationships. While at Harding Kaitlyn will study Exercise Science.
What a great week for Cabot High School student athletes! Congratulations again Katie, Jessica, Kyler, Savannah, and Kaitlyn!
Congrats to our 5⃣ college signees today - Katie, Jessica, Kyler, Savannah, & Kaitlyn! @Cabot_Baseball @cabotgirlsbb @Cabot_Softball @CHSPantherVball @vwadley18 pic.twitter.com/M9q4042HgF

— Cabot Athletic Dept. (@CabotAthDept) November 11, 2020