Navigating the new Cabot Public Schools App
January 20, 2015
Jan. 20th, 2015
Instructions:
Read below for Instructions on how to download and use the new Cabot Public Schools App.
*There is a new upgrade to our Cabot Public Schools App. It's called eschoolPLUS Family. This is now where you'll go to get real time updates on grades, assignments, and attendance. This is where you'll also set your alerts for grades and attendance. This icon is located next to the Student Info icon.

Please click HERE for more on eschoolPLUS Family.
---
How to Download the Cabot Public Schools App
Go to the App Store (iPhone) or Google Play (Android)

Search "Cabot Public Schools" or "Cabot School District"

Then "Install"

You will need to know your apple or google account password

After it has installed select "Open"

You have now downloaded the app
How to Customize Your News and Calendar Feeds
Select the News icon
By default you will see all the district level news feeds (We highly encourage you to always follow the district!)
Select the "Wheel" in the top right hand corner
Select which school(s) you wish to follow
Choose which type of information you want to follow (all, notifications, calendar)
Select the "back arrow <News"
Now your customized selection will display in your News Section
If you didn't customize your calendar in the News Section, you can by selecting the Calendar icon
Select the "Wheel" in the top right hand corner
Select which school(s) you wish to follow (Athletics, Gifted & AP Programs also have calendars)
Select "Done"
Your App is now customized
View Grades, Assignments, Attendance, Lunch Balance - PLEASE SEE MESSAGE ABOVE REGARDING eschoolPLUS Family

Watch a Video Tutorial: How to access HAC
The Cabot Public Schools App allows you to view your child's grades, assignments, attendance record and cafeteria balance.
(The grades and assignments are pulled from the Home Access Center. If you child's grades do not display in the HAC they will not show on the app either; for example, K-4th grade students who have standards-based report cards)
Select the Student Info Icon
You will need to enter your Home Access Center Login ID and password. If you don't know your HAC information you can contact your child's school.
You will now see a parent icon and your student(s) icon
Click on the icons to upload a picture. Select edit and either take a photo or choose one from your phone.
To view upcoming assignments click on assignments.
To view grades click on "Classes". You will see the grades on the right hand side.
To view specific assignments and grades for those assignments, select a class.
Click on Attendance to check if your student has been absent or tardy
You can also view your child's Cafeteria Balance
Set up Push Notifications - Please See Message Above Regarding eschoolPLUS Family - this is where you'll now set grades and attendance alerts. You can still set cafeteria balance alerts here though.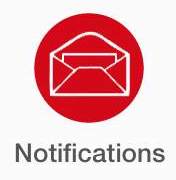 On the front screen select the "Notifications" Icon
(Depending on whether you're logged in as a parent or not, you'll either see a wheel in the top right corner or you'll see "Alerts" and "Inbox"
Click any of those options

From there, click on Follow Schools to make sure you're following the school(s) of your choice
Then select <Back
Now click on "Configure Alerts"
Alerts are push notifications that pop-up on your phone
You can set many alerts including:
*Any time a new message is sent
*When you child's class grades drops below a certain threshold
*When your child's grade has been updated by the teacher
*When your child's cafeteria balance drops below a certain threshold
*You can also go to the Settings icon and set up your alerts
Lunch Menus
Click on the Lunch Menu icon
Select the word "Change" in the top right corner
Select the school you wish to follow
Language
Our Cabot Public Schools app can automatically translate into 50 languages
Go to Settings (swipe to the third page of the app, it's the last icon)
Select Language
Enjoy the app in your preferred language