Cabot Welcomes New Teachers 2021-2022
August 9, 2021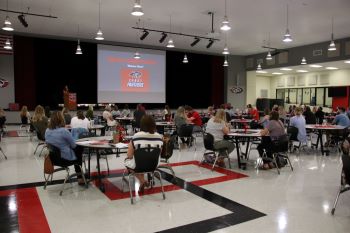 Cabot Public Schools is proud to welcome new teachers to the district. New faculty and staff recently participated in a two-day orientation to help them prepare for the upcoming school year.
New educators also had a chance to listen and learn from current administrators. They received an overview of the district, expectations, and advice and strategies.
Congratulations to our new teachers!

Victoria Atchley, Alyssa Bevis, Sarah Blair, Heather Bonnette, Jennifer Claypoole, Ryan Collins, Nicole Davis, Jennifer Duffel, Kara Estes, Stephanie Ford, Kyle Fortner, Elanie Goertzen, Myra Hernandez, Brittany Jatzlau, Ashley Johns, Ashlee Kulsa, Jennifer Landers, Mitch Lilly, Haylea Luffman, Shola McFadden-Kitrell, Keely Slater (McIlvoy), Katherine Melikian, Van Prevatt, Jennifer Scandle, Dian Lujan, Kortney Schiesz, Brittney Sullivan-Madden, Austin Taylor, Samantha Taylor, Abigail Wade, Rebekah West, Madison Willhite, Erica Zardo, Cheyenne Bowerman, Edgar Fonda, Haylee Loter, Emilee Perry, Elizabeth Redd, Garrett Rogers, Melani Blansett, Zachary Boyd, Haley Giorgini, Keith Graham, Mason Guthrie, Heather Hawk, Connor Heinz, Sydney McClung, Rebecca Winslow, Crystal Carranco, Kaleb Ferren, Tyler Gattin, Karrie Irwin, Hannah Lovercheck, Cynthia McEuen, Ashley McFadden, Kelsey Newman, Lisa Ralph, Tasia Sandlin, Amanda Sobczak, Amy Stromeyer, Jenna Warren, Tristia Winters, Haley Teer, Jessica Benson, Lindsay Henley, Hannah Howard, Valeria McGaugh, Mary Rebidue, Chad McCoy, Todd Prothro, Bethany Thomas, Sarah Turner, Amy Youngblood, Kassi Davis, and Charli Riv
Thank you to the Cabot Classroom Teachers Association and the Cabot Junior Auxiliary for providing breakfast.
Our new educators were also teacher to a new Teacher Luncheon hosted by the Cabot Chamber of Commerce. We appreciate all the businesses for sponsoring the luncheon and your continued support.

ARcare, ASU Beebe, Bank of LR Mortgage, Brown Agency, Building Bridges, Butler Financial, Cabot Church of Christ, Cabot Office Machine, Cabot Emergency Hospital, Chenal Family Therapy, Edge Realty, FAB&T, Farm Bureau, First Community, First Electric, H&R Block, The Humble Thread, IRealty, Kimberling Kids Travels, Life Strategies, Mize Heating & Air, Options Pregnancy Center, The Pointe at Cabot, Shalee's Day Spa, Southern Bank, State Farm – C. Tamburo, State Farm – G. Pryor, Supreme Lending, The Popcorn Spot, First Security, Simmons Bank
Thank you to Centennial Bank for also providing lunch and to the Arkansas State Teachers Association for providing desserts.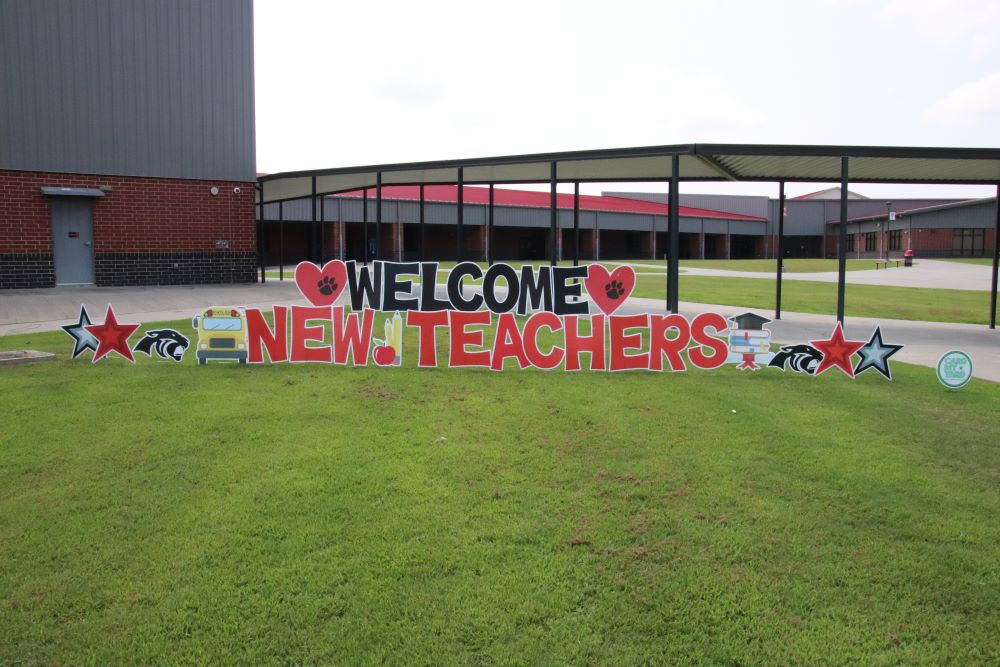 New teachers were also greeted with a wonderful welcome by Card My Yard Cabot.