CHS Panther Track 2021-22 Academic State Champions
October 21, 2022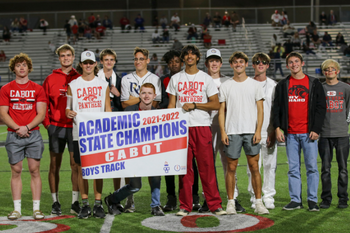 Congratulations to our 2021-2022 Cabot Panthers Boys Track and Field Team for being recognized as ACADEMIC STATE CHAMPIONS by the Arkansas Activities Association!
Hard work and dedication is required to earn a championship on the field but the same is required to be successful in the classroom as well. Each year, the Arkansas Activates Association recognizes teams in football, boys and girls basketball, boys and girls cross country, boys and girls soccer, boys and girls track, softball, baseball, volleyball, boys and girls tennis, boys and girls golf, boys and girls swimming, boys and girls bowling, wrestling, competitive cheer, and competitive dance who have achieved academically. It is based on each team member's cumulative grade point average for the most recent official grading period.
Our Cabot Panthers are not only successful on the track but in the classroom. This team consists of three National Merit Semifinalists, an appointee to the Naval Academy, a recipient of a $250,000 ROTC scholarship, two scores of 35 on the ACT, several honor roll recipients and honor graduates. The team combined GPA is 3.67.
We are very proud of these student-athletes! Congratulations once again to these State Champions!