Lady Panthers Track 6A Central Conference CHAMPS & Panthers Runners-Up
May 3, 2023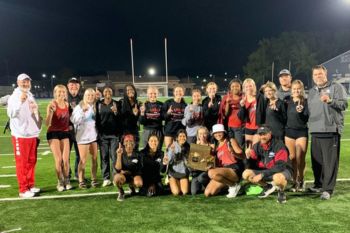 On April 27th, our High School Track and Field teams competed in the 6A Central Conference Tournament. They competed along with Bryant, Little Rock Catholic, Little Rock Central, Conway, Jonesboro, North Little Rock, and Mt. Saint Mary and we are PANTHER PROUD to announce that our Lady Panthers finished as the 2023 6A Central Conference Champions (183 total points scored) and Panthers finished runners-up (137 total points scored)!
Click HERE for a complete list of finish times
Girls Conference Champions
Victoria Chapman: Pole Vault (9-6)
Brenlee Leonard: Shot Put and New Conference Record (37-7)
Kenzie Pruett-: Triple Jump (35-11.25)
Katy Inderrieden, Cady Masters, Ensley Grant, Makenzie Wood: 4x800 M Relay (10:05.44)
Laylah Reese: 100 M Hurdles & New Conference Record (14.92) and High Point Award with 34 points!
Cady Masters: 3200 M

Boys Conference Champions
Quinn Hawkins: Pole Vault (14-2)
Chris Leaks: Shot Put (52-2)
Josh Trueman, Myson McFall, Hez Morris, Brandon Waller: 4x 800 M Relay (8:33.81)
Michael Griffin: 300M Hurdles (41.14)
Brandon Waller: 800 M (1:58.19)
Brandon Waller, Chris Roe, Gage Jackson, Michael Griffin: 4x400 M Relay (3:35.42)
2023 6A Central Conference CHAMPIONS: Lady Panthers


2023 6A Central Conference Runners-Up: Panthers


The 6A State Meet will be held Thursday, May 4th at Fort Smith Southside High School. Good luck to all the qualifiers that will be participating at this meet!