CHS Homecoming Details: September 29th, 2023
September 14, 2023
It's that time of year when our schools and community celebrate Homecoming Week! September 25th-September 29th is a fun-filled week that includes themed days and a home football game.
The fun kicks off with Spirit Week! It's a great way for students to show off their school spirit leading up to the Friday night football game. Cabot High School students will celebrate spirit week with the following themed days:
*Other schools may be participating in spirit week as well, be sure to follow your child's school on social media to check out their themed days*
Panther Pride Red and White Day: Friday, September 29th everyone is encouraged to show their Panther Pride by wearing "Red and White." Students and staff will be joining in on the fun and we'd love for this to be a community wide celebration.
CHS Homecoming Pep Rally: A pep rally will be held Friday, September 29th at 12:30 p.m. at Panther Arena. This is where all the Ambassadors and Homecoming Royalty will be announced.
2023 CHS Homecoming Royalty
Senior Maids
Back Row (L to R) – Molly Ivy, Jenna Cook, Allison Clark, Mia Crafton, and Blyss Miller
Front Row (L to R) – Gracie Williams, Wekei Wu, Allison Donley, Victoria Smith, Ivy Loe, and Annika Franovich. Charla Weatherley (not pictured)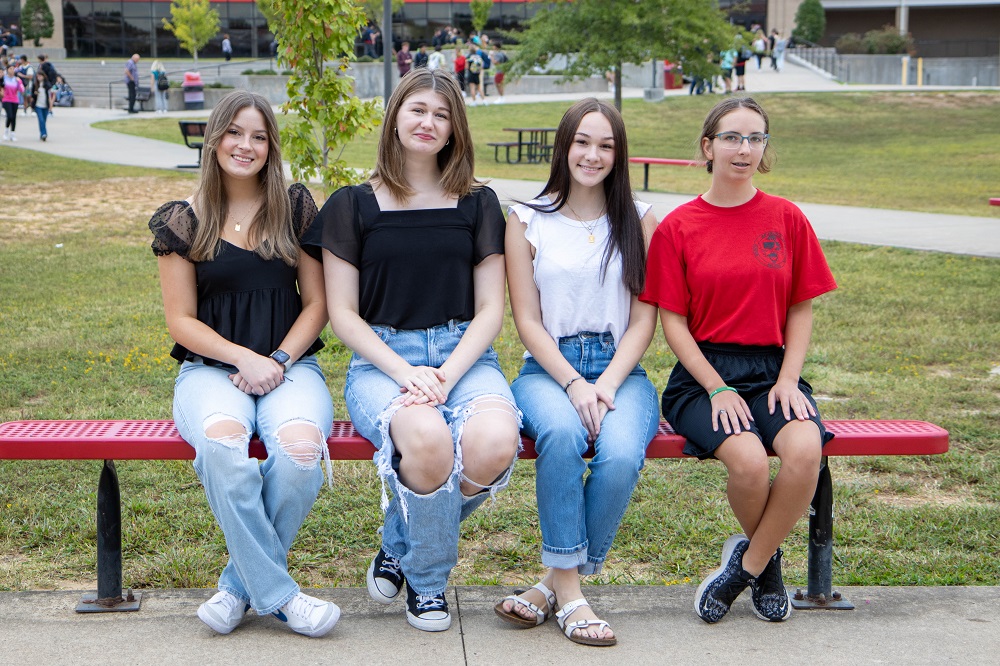 Junior Maids
(L to R) - Taylor Kemp, Mary Youngblood, Izabell Dunlap, and Aurora Anderson
Sophomore Maids
(L to R) – Delainy Harvey, Zoey Anny, Audrey Beard, and Peyten Neville
2023 CHS Ambassadors
Click HERE for a full list of Ambassadors
Homecoming Parade: The community homecoming parade will be at 3:30 p.m. and will begin on Panther Trail/Hwy 89 and end at Pond St. Click HERE for details and float entry. (District dismissal will be at 1:30 p.m.) Registration forms for the Homecoming Parade are due Friday, September 22nd at 5:30 p.m. After this date, a late fee will be charged.
Homecoming Football Game: The Cabot Panthers will play the Little Rock Southwest Gryphons Friday, September 29th at 7:00 p.m. at Panther Stadium. Admission is $5.00 and tickets can be purchased online HERE. (Tickets will also be sold at the game). Gates will open at 5:00 p.m. Homecoming festivities begin at 6:10 p.m.
All home varsity football games will be live streamed by our CHS broadcasting students and can be seen on our Cabot Panthers Athletic App or on our athletics website at https://www.cabotpanthers.com/broadcasts.

Homecoming Dance: For Cabot High School and Cabot Panther Academy students ONLY
When: Friday, Sept. 29
Where: CHS Cafeteria
Time: 10:00 p.m. - 12:00 a.m.
Cost: $10.00 or bring 5 canned foods or nonperishable food items and pay only $5.00.
Students will be able to purchase tickets the week before the dance during both lunches in the cafeteria by the student exit. Tickets can also be purchased at the door. Sodas, water and snacks will also be available for students to purchase.
Dress is casual but students are welcome to dress up in their best Homecoming attire. The dance is limited to Cabot High School and Cabot Panther Academy students only. Please contact Mrs. Rowe at tasha.rowe@cps.k12.ar.us if you have any questions.