Congratulations to our 2024 National Merit Semifinalists
September 21, 2023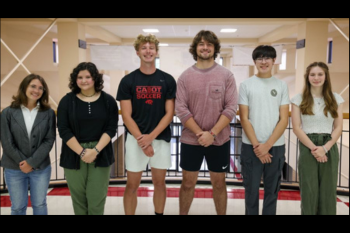 Cabot High School is proud to announce our six 2024 National Merit Semifinalists!
Congratulations to Ryan Decker, Chandler Ford, Katelin Kellar, Anna McPhail, Maddie Peck, and Gavin Reardon. These six outstanding Cabot High School seniors scored in the top 1-percent nationally on the PSAT!

The National Merit Scholarship Program is an academic competition for recognition and scholarships that began in 1955. High school students enter this program by taking the Preliminary SAT and by meeting published program entry and participation requirements.
There are around 1.5 million students that participate in this exam every year. Of those students, about 16,000 have scores which qualify them as Semifinalists. The state of Arkansas had 126 National Merit Semifinalists this year, and 6 of those are from Cabot High School.

Students selected as National Merit Semifinalists have the opportunity to fulfill requirements to advance to the Finalist level of the scholarship competition. National Merit Finalists will be announced in February.

Congratulations Ryan, Chandler, Katelin, Anna, Maddie, and Gavin!