2016 Dancing with the Cabot Stars
November 7, 2016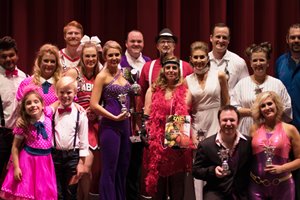 Eight brave couples performed in front of a packed house for the title of "2016 Overall Dancing Champion." It was all part of the Cabot Panther Foundation's Dancing with the Cabot Stars.
With help from dance instructors Priscilla Morris, Priscilla's School of Dance, Haley Helms, Mike & Kim Nelson, Chey Peterson, and Ashley Tarvin, these couples worked tirelessly for months learning a group and individual routines.
The Cabot Panther Foundation supports the educational purposes of the Cabot School District and this dancing event was one of several events they put on throughout each school year, raising money for the foundation and school.
Dance couples included: James & Codi Bennett (Best Stunts Trophy), Andrew Pouncey & Bethany Hill (Most Creative Trophy), John Dodd & Brittany McCutcheon (Most Entertaining Trophy), Sean Coker & Wendi Pickard (Best Music Trophy), Wes Davis & Kim Usery (Best Costume Trophy), Riley Hawkins & Kristi-Paige Danielson (Most Energetic Trophy), Kerry & Candice Castillo (Fanciest Footwork Trophy) and Marshall Butler & Bailey Moses (Best Technique Trophy).
Congratulations to the 2016 Winners:
Overall Winners: Marshall Butler & Bailey Moses
First Place Winners: Kerry & Candice Castillo
Audience Choice Winners: Sgt. John Dodd & SRO Brittany McCutcheon


The Cabot Panther Foundation and Cabot School District would like to thank everyone who attended this event and for supporting such a great cause.
*Special thanks to CHS student Chloe Bohannon for taking these pictures!