Seven Cabot Schools Designated Purple Star Schools
September 13, 2018
Seven Cabot schools are the first in the state to be designated Purple Star Schools by the Arkansas Department of Education.
Eastside Elementary, Mountain Springs Elementary, Stagecoach Elementary, Southside Elementary, Cabot Middle School North, Cabot Junior High North, and Cabot Freshman Academy received the honor for their commitment to supporting and serving military children and their families.
Each school principal and their counselors were recognized at the Thursday, September 13th, State Board of Education meeting by Col John Kaminar, Arkansas Commissioner for the Military Interstate Children's Compact Commission, Arkansas Education Commissioner Johnny Key, and Chair of the State Board of Education Dr. Jay Barth.
Cabot Schools Superintendent Dr. Tony Thurman who was appointed to serve on the State Council for the Interstate Compact on Educational Opportunity for Military Children also attended the recognition ceremony, as well as Cabot Schools Director of Counseling Terena Woodruff and Director of GT, Advanced Placement, & Federal Programs Aaron Randolph.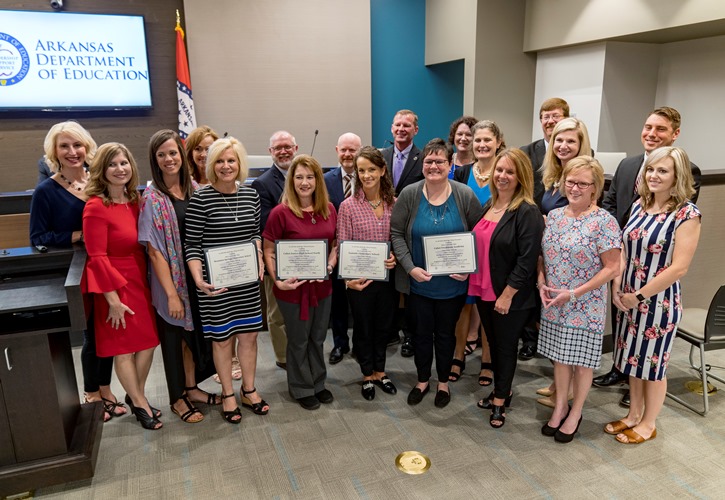 Cabot is home to a large number of military families due to its close proximity to Little Rock Air Force Base. More than 1,000 military children are enrolled in Cabot Public Schools.
Back in June, the Cabot School Board adopted a resolution of support for our military children and families. The Cabot School District has dedicated a new web page on its website featuring resources and services to help military families. It can be found HERE.
The district has also designated our school counselors as the point of contact for our military families. Counselors will serve as liaisons to help provide any necessary support. Our counselors have been trained to specifically assist families in any situation military students may face including, constant relocation, enrollment, eligibility, graduation requirements, to dealing with a deployed parent.
If you are a military family and need assistance, please feel free to contact your child's school counselor at any time.
We appreciate the sacrifices our families make each and every day. The district is committed to serving students of our military heroes and supporting them both emotionally and academically.
Congratulations again to our seven Cabot Purple Star Schools!