Cabot Hosts 2019 Pre-Holiday Basketball Classic: Dec. 9-14
December 6, 2019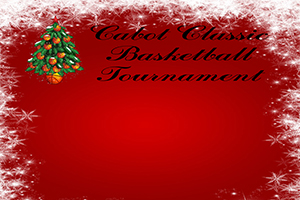 Schools from across the state will be in Cabot December 9th-14th for the annual Pre-Holiday Basketball Classic.
Come support your Cabot Panthers and help us welcome other schools to Cabot.
The Classic will begin at 4:00 p.m. Monday, December 9th in the CHS Panther Arena.
Pre-Holiday Classic Schedule:
Click HERE for the Girls Division Bracket | Click HERE for the Boys Division Bracket
Monday, Dec. 9
4:00 (B) Cabot JV Boys vs Catholic JV (Game 1 - Stand Alone)
5:30 (B) Catholic vs Pulaski Academy (Game 2)
7:00 (G) Cabot vs Beebe (Game 3)
8:30 (G) Pulaski Academy vs Searcy (Game 4)
Tuesday, Dec. 10
4:00 (G) L3 vs L4 (Game 5)
5:30 (B) L2 vs Cabot JV (Game 6)
7:00 (G) W3 vs W4 (Game 7)
8:30 (B) W2 vs Searcy (Game 8)
Thursday, Dec. 12
4:00 (G) Lonoke vs MSM (Game 9)
5:30 (B) Beebe vs Mountain Home (Game 10)
7:00 (G) Mt Home vs McClellan (Game 11)
8:30 (B) Cabot vs Lonoke (Game 12)
Friday, Dec. 13
4:00 (G) L9 vs L11 (Game 13)
5:30 (B) L12 vs L10 (Game 14)
7:00 (G) W9 vs W11 (Game 15)
8:30 (B) W12 vs W10 (Game 16)
Saturday, Dec. 14
High School - Old Gym
1:00 (G) L5 vs L13 (Game 17)
2:30 (B) L14 vs L6 (Game 18)
4:00 (G) W5 vs W13 (Game 21) Girls 3rd place
5:30 (B) W14 vs W6 (Game 22) Boys 3rd place
High School - Panther Arena
1:00 (G) L7 vs L15 (Game 19)
2:30 (B) L16 vs L8 (Game 20)
4:00 (G) W7 vs W15 (Game 23) Girls Championship
5:30 (B) W16 vs W8 (Game 24) Boys Championship
If you have any questions, please contact the Athletic Department at (501) 743-3530. Admission is $5.00 per person kindergarten and up.
Thank you to Allstate Insurance and Tropical Smoothie of Cabot for being the sponsors of this event this year.