Retired CHS Football Coach Inducted into AHSCA Hall of Fame
Oct 28, 2020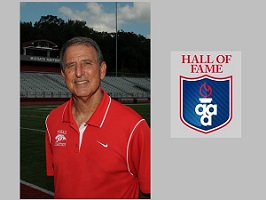 Retired Head Cabot High School Football Coach Mike Malham was inducted into the Arkansas High School Coaches Association Hall of Fame on October 24, 2020. The ceremony took place at the Horner Hall in the Hot Springs Convention Center.
Coach Malham was one of six coaches that were induced into the Hall of Fame. Others induced included Danny Ebbs of Blytheville/Parkdale/Stephens, Carl Ramsey of Lamar, Buzz Bolding of Conway, John Murray of Monticello/Hamburg, and Gary Don Smith of Hot Springs Lakeside.

*Coach Malham pictured with his family
Coach Malham was the head football coach for Cabot for 37 years before retiring after the 2018 football season. During his time at Cabot, Coach Malham's record was 301-139-4 and he was the winningest active coach and the second winningest coach in the history of Arkansas high school football!
Coach Malham was also inducted into the Arkansas Sports Hall of Fame in 2015.
To read Coach Malham's full bio click here.
Congratulations Coach Malham on this well deserved honor!
Click HERE to view the full AHSCA Hall of Fame banquet. (View Coach Malham's acceptance video beginning at 1:05:24 mins.)