Cabot Freshman Academy Parent Meeting
October 2, 2013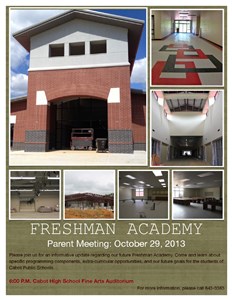 Please join us for an informative update regarding our future Freshman Academy.

Come and learn about specific programming components, extra-curricular opportunities, and our future goals for the students of Cabot Public Schools.
Tuesday, October 29th 2013
6:00 PM
CHS Fine Arts Auditorium

If you would like to learn about the Freshman Academy, you are encouraged to attend this meeting. If you have any questions, please call Central Administrative Office (501) 843-3363.

The Cabot Freshman Academy was recently featured in 501 Life Magazine. Click HERE to see the article.