CHS Seniors Present Life Impact Diplomas
May 20, 2014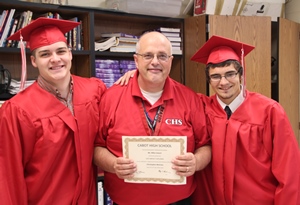 Life Impact Diplomas provide graduating high school seniors the opportunity to honor one person in the district, regardless of their position, for the impact that person had on the senior's life.

Seniors presented Life Impact Diplomas on May 15 and read letters written to their recipient explaining why this person was chosen and the impact he or she made on the student.

This is a great opportunity for students to show appreciation to someone who has made a difference in their lives.