"Wreaths across America� Honors Fallen Heroes at Cabot High School
December 12, 2014
Dec.12, 2014
It was an emotional ceremony as several families of fallen heroes were honored in a "Wreaths across America" ceremony. It was held Friday morning at Cabot High School in Panther Arena.
Two trailer loads of memorial wreaths were relayed through the Searcy Walmart Distribution Center and brought to Cabot High School. Several families whose loved ones paid the ultimate sacrifice were honored with memorial wreaths. These heroes are former Cabot students.
Army Sergeant Jason M. Swindle, 24, assigned to U.S. Army, 1st Battalion, 64th Armor Regiment, 2nd Heavy Brigade Combat Team, 3rd Infantry Div, Fort Stewart, GA. Army Sergeant Swindle died September 20, 2012 of injuries sustained when he was attacked by a rocket propelled grenade while on mounted patrol in Panjway, Afghanistan.
The Swindle family including wife Chelsey and sons Paxton and JJ attended.
Air Force Master Sergeant Daniel Ray Wassom II, 31, assigned to Arkansas Air National Guard's 189th Airlift Wing. He died April 27, 2014 using his body to shield his 5-year-old daughter as a tornado demolished their house.
The Wassom family attended including mother Pam, sister Leolani, his grandmother and aunt.
Army Sergeant Brandon M. Smith, 24, assigned to U.S. Army 82nd Airborne, F.Co. 2-508 PIR 4th BCT Ft. Bragg, NC. Army Sergeant Smith died March 15, 2011 of noncombat related injuries at Fort Bragg, NC.
His parents Holly and Bill Smith attended the ceremony.
Army Specialist Ronald W. Baker, 34, assigned to Army National Guard, 39th Support Battalion, Arkansas National Guard, Lonoke, AR. He died October 13, 2004 in Landstuhl, Germany, of injuries sustained on October 7th in a car bomb attack on his patrol vehicle in Taji, Iraq.
SPC Baker's daughter Alexis accepted a wreath in honor of her father.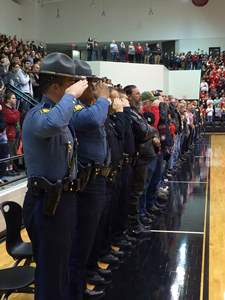 The ceremony culminated with the passing of a memorial wreath. It started with Walmart Searcy Driver Larry McCord. It was passed from veteran to veteran and ended with Walmart Clarksville driver, Wesley Bushnell whose son William Bushnell was killed while serving in Iraq in 2007. Mr. Bushnell is retiring and was presented with a plaque.
Walmart recognizes the sacrifices of our nation's veterans and sponsors more than 30,000 wreaths. These wreaths will be laid at more than 900 national cemeteries worldwide.
After the ceremony, the two trailers filled with wreaths headed to the National Military Cemetery in Fayetteville. Saturday at 11 a.m., more than 8,200 wreaths will be laid in honor of our fallen heroes.