Cabot High School Graduation 2021 – War Memorial Stadium
June 1, 2021
For the first time ever, Cabot High School's graduation ceremony for the Class of 2021 was held at War Memorial Stadium in Little Rock. Due to the pandemic, Simmons Bank Arena was not able to accommodate us this year.

Thousands of family and friends gathered to watch their favorite graduate from Cabot High School, Academic Center of Excellence, ACE North, and the Cabot Learning Academy walk across the stage.

Superintendent Dr. Tony Thurman welcome everyone and congratulated the Class of 2021. Included in the 701 students who graduated, 55 Distinguished Honor Graduates, 75 High Honor Graduates, and 93 Honor Graduates. The Class of 2021 was also awarded millions of dollars in scholarships.

This year's Valedictorian was Natalie Stocks, along with Co-Salutatorians Gabriel Dickson, Seth Johnson, and Cameron Sanders.
While at Cabot High School, Valedictorian Natalie Stocks has been in Pre-AP and AP classes since seventh grade, graduating with a 4.53 GPA while taking 12 AP classes. She is a member of Cabot Chamber of Commerce Youth Leadership Council, Jr. Civitan, Key Club, Mu Alpha Theta, and served as treasurer of National Honor Society this past year. Natalie has received the Chancellor's Scholarship from The University of Arkansas as well as the Governor's Distinguished Scholarship. She plans to attend the U of A this fall with a degree in molecular biology and genetics. With this, she plans to pursue cancer research one day.
Co-Salutatorian Gabe Dickson has been on the Cabot Soccer Team since ninth grade and is a senior captain. He also plays for the FC Dallas Central Arkansas club team. He is the president of the Ecology Club and a member of National Honor Society, Chick-Fil-A Leadership Academy, Mu Alpha Theta, Rho Kappa, and Spanish Honor Society. He was named by College Board a top national Indigenous Scholar. He received an $80,000 scholarship to attend Baylor University as well as the national IAMAW scholarship, the Thurman Family Scholarship, and the Governor's scholarship. Gabe plans to attend Baylor University.
Co-Salutatorian Seth Johnson has participated as a member of the Cabot National Honor Society, Key Club, Science National Honor Society, and Mu Alpha Theta since his Freshman year in High School. Alongside his dedication to volunteering for his community, Seth is also a medical completer to help solidify his aspirations of pursuing a career in psychology/neuroscience. Seth plans to further his studies in the science field as a part of the honors college at the University of Arkansas.
Co-Salutatorian Cameron Sanders has played French horn for the Cabot Bands since 7th grade. He placed All-Region, 1st Band for five years and also placed in the All-State Symphonic Band and Wind Symphony. He has received superior State Solo/Ensemble recognition, the Leonard Bernstein award for musical contributions and creativity, and placed in the 1st All-Region Jazz Band on trumpet. For three years, Cameron was part of the competitive marching band and Drum Major for two years. He was in the National Honor Society and Key Club, treasurer of the Jr. Civitan Club, President of the Young Democrats, and is an AP Scholar with Honor. From the University of Arkansas, Cameron has received the Chancellor's Scholarship, the School of Art Scholarship, and the Marching Band Scholarship. He also received the Governor's Distinguished Scholarship and Don Margie Spence Scholarship. Cameron plans to attend the University of Arkansas to study Art History and participate in the marching band.

Mr. Hawkins along with his assistant principals called students on stage while Cabot School Board President Brian Evans, presented students with their diplomas. Mr. Evans was able to present his own daughter Laina with her diploma as well.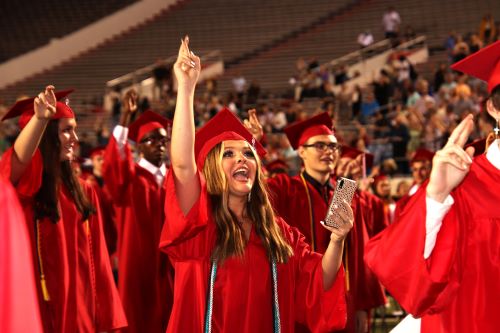 Following the changing of the tassel, Cabot School Board member Mrs. Donna Nash presented the Class of 2021!