Cabot Hosts Wrestling "Bring the Hammer": December 16-17, 2022
December 14, 2022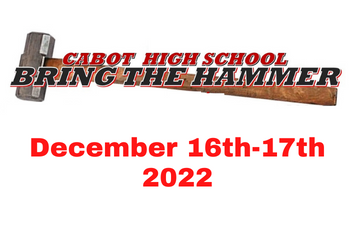 The Cabot Athletic Department and Cabot School District is excited to host the 2022 "Bring the Hammer" Wrestling Tournament December 16-17th.

This is the largest wrestling tournament in the state of Arkansas and will consist of 46 boys and girls teams competing (28 boys teams and 18 girls teams) for the Championship titles. Among the 46 teams there are numerous different states.

This 2-day tournament begins Friday, December 16th at 3:30 p.m. and Saturday, December 17th at 9:00 a.m. and will be in the Cabot High School Panther Arena, Old Gym, and Annex. (401. N Lincoln St) Admission is $5.00 per person for Kindergarten and up.
This is an individual match tournament with 14 different weight classes. Winners from each class will be announced throughout the day Saturday.
We would like to welcome the following teams to Cabot: Azle, TX, Bentonville West, Briarcrest, Bryant, Burleson, CAC, Cache, OK, Catholic, Fairthorpe HS, AL, Grapevine, TX, Keller Timber Creek, TX, Lake Hamilton, Lakeside, Lancaster, TX, LR Central, Norman North, OK, Perry, OK, Poplar Bluff, MO, Rockwall Heath, Rogers, Russellville, Southside Batesville, Springdale, Springdale HarBer, Sylvan Hills, Tahlequah, OK, LR Southwest, Christian Brothers, and Arlington, TN.
Good luck to our Panther and Lady Panther Wrestlers! This tournament wouldn't be possible without the support and donations from local businesses. Thank you to Premier Roofing, First Community Bank, Lonoke Collision Center, Centennial Bank, and Hertzog Family Eye Care.