Cabot Bowling Teams Capture Two More State Titles
Feb 18, 2016
Cabot can add two more trophies to their trophy cases for the Boys' and Girls' Bowling Teams.

Both teams competed in the 7A State Championship on Wednesday and brought both titles back to Cabot! More than a dozen teams from across the state competed.
This is the fifth consecutive win for the boys and the first back-to-back win for the girls. It's also the girls fifth overall win.
Congratulations to all the bowlers and Coach Clark Bing!
Six bowlers received individual awards:
Boys Gold Medalist - Cole Stillman
Girls Gold Medalist - Micah Perry
Girls Silver Medalist - Lauren Bunting
All-State Boy Bowlers - Cole Stillman and Josh Imhoff
All-State Girl Bowlers - Micah Perry, Lauren Bunting, Hayleigh Baugh and Megan Bugiel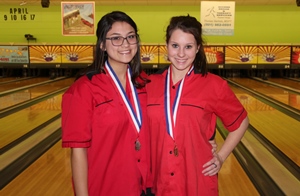 Medalists - Boys: Cole Stillman Medalists - Girls: Lauren Bunting and Micah Perry
The boys had a total score of 4.447 and the girls had a total score of 3,724.
Thanks @THV11 @Mary_Dunleavy for featuring the 7A State Bowling Tourn last night! 2016 Boys & Girls State Champs! https://t.co/Nap8oahRSW

— Cabot Athletic Dept. (@CabotAthDept) February 18, 2016