Elementary Quiz Bowl Tournament 2017
February 16, 2017
Eighty-five Cabot 4th graders in the Gifted and Talented Program participated in the annual Elementary Quiz Bowl Tournament. The tournament was held February 3rd, at First Baptist Church in Cabot.
Sixteen teams, each coached by a Cabot High School student took part in the academic competition. Competitors were tested in areas including math, science, vocabulary, spelling, literature, trivia, sports and geography.
The top four teams played in the finals and then the top two teams competed to see who would take home the title.
It came down to the Bulldogs and the Hawks and in the end the Bulldogs pulled off the victory.
Congratulations to all the teams who participated!
Congratulations 1st Place Bulldogs:
Coach: Ben Cameron
Captain: Zane Caldwell
Isabelle Beaupre
Hunter Bryan
Alejandro Canales
Abigail Young
Sebastian Cook
Hawks 2nd Place:
Coach: Caleigh Pickard
Captain: Reece McAllister
Jessa Gibson
Emma Shepherd
Wyatt Phillips
Natalie Hewett
Joaquin Germain
Tarantulas 3rd Place:
Coach: Blake Mitchell
Captain: Matthew Littell
Madison Powell
Alex Strube
Emma Osborn
Nevaeh Yates
Lions 4th Place: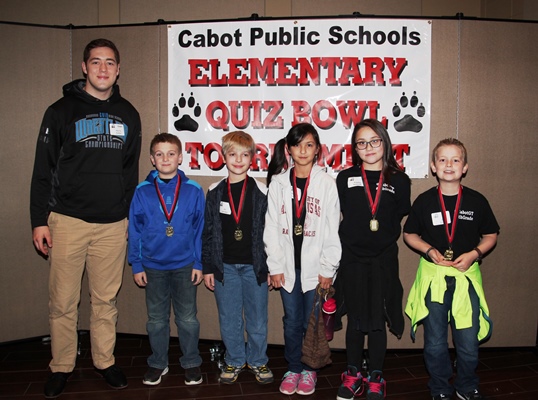 Coach: Harris Sutton
Captain: Rhianna Bowen
Eli Crider
Eli Jordan
Garrett Allen
Kaylee Schmidt