National Signing Day 2018: Four CHS Seniors Sign Letters of Intent
February 9, 2018
Friends and family packed the Cabot High School Media Center on National Signing Day to watch four student athletes sign letters of intent to play sports at the college level.
Congratulations to Josh Imhoff (Bowling – OCU), Ayden Shurley (Football – HSU), Ashlyn Spears (Softball – CBS), and John Wiens (Football – UAM).
The first signee was Josh Imhoff. Josh has been bowling for Cabot throughout high school and helped lead his team to three state championship titles! Josh was proud and thankful to sign his letter of intent with Oklahoma Christian University to bowl next fall.
Josh is excited for the vision OCU has to offer and to go into the field of Mechanical Engineering. He fell in love with the environment and is looking forward to spending time there with his new bowling family.
Congratulations Josh and proud parents Corey and Melissa Imhoff!
#ReddieUp for Ayden Shurley! Ayden has committed to play football next fall at Henderson State University. In front of family and friends, Ayden signed his letter of intent, along with his parents James and Aleisha Shurley. Ayden has been playing football for Cabot since the 7th grade and is looking forward to playing in college.
Ayden felt like he connected with everyone at Henderson State and is looking forward to meeting new people and furthering his education! While at Cabot, Ayden has been awarded honors including, 2017 7A All State, 1st Team All-Conference, 2017 Three Rivers Edition All Area Football Team, and 2017 7A Central Academic All-Conference (3 years).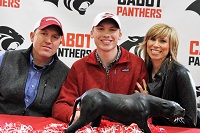 Ayden will play H-Back at Henderson State University and plans on majoring in Pre-Med & Chemistry or Biology.
Good luck next year Ayden!
Ashlyn Spears, along with parents Mark and Tonya Spears, signed her letter of intent to play softball at Central Baptist College. Ashlyn has been a part of the Cabot Softball Team for four years and has been a great asset to the team!
Ashlyn said CBC felt like home to her and she is looking forward to branching out and experiencing new things. Ashlyn will be a Utility player for CBC and plans on majoring in Kinesiology with a goal of going into coaching.
Congratulations Ashlyn!
The final signee of the day was football player John Wiens. John, with proud parents John C. & Jenny Wiens, signed his letter in front of family and friends. The University of Arkansas Monticello campus felt like home for John and he has family in the area. John is looking forward to being on his own and being responsible for himself while continuing his education and forming a new bond with his incoming teammates.
John will play tight end for the Boll Weevils. Some of John's accolades include, 2017 7A All-State and 1st Team 7A Central All-Conference last year. John will also represent Cabot in the 2018 All-Star game for football on June 23rd at UCA.
Good luck John!
This week has been a great one for Cabot High School and our senior athletes! Congratulations again Josh, Ayden, Ashlyn, and John!