CFA Teacher 2020 ACEs & Resilience Summit Award Winner
Sep 23, 2020
A Cabot Freshman Academy teacher is in the spotlight! Congratulations to Laura Abbott for being honored with the Rise Award from the Arkansas Adverse Childhood Experiences and Resilience Coalition. Ms. Abbott was recognized virtually during the ACEs & Resilience Summit.
The Rise Award honors an individual who demonstrates resilience in action and uses their life experience to foster resilience in others. The honoree is one who has overcome difficult obstacles in their life such as abuse, neglect, poverty, etc., to become an inspiring and successful adult. The Rise Award is inspired by the poem, "Still I Rise" written by native Arkansan Dr. Maya Angelou.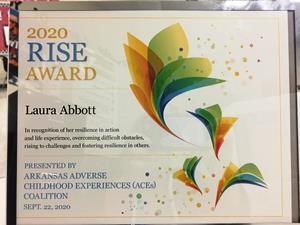 Ms. Abbott is a domestic abuse survivor and has dedicated her life to volunteering for victim's rights policy reform, raising awareness on adverse childhood experiences, and implementing post-traumatic growth strategies.
Ms. Abbott is recognized nationally as a subject matter expert on domestic violence. She collaborated with numerous Arkansas agencies in creating "Laura's Card." This card is given to victims of violent crime that details their rights and resources available.
In 2019, Ms. Abbott was the recipient of the Department of Justice Volunteer for Victims National Crime Victims Award. In 2020, she was selected as one of Arkansas' KARK most Remarkable Women of the year. Ms. Abbott also serves as a Governor-appointed member on The Arkansas Suicide Prevention Council and the Arkansas Commission on Child Abuse, Rape, and Domestic Violence.
Congratulations Ms. Abbott on your much deserved award!