Fall 2023 College Signing Day: 12 Athletes
November 16, 2023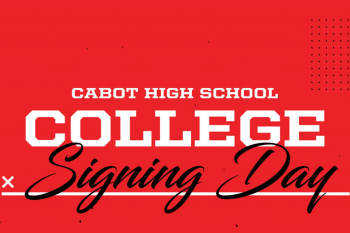 This Cabot Athletic Department recently held their fall college signing ceremony for twelve student-athletes!
Family and friends gathered in Panther Arena to watch each student as they said a few words of gratitude for their coaches, family, and friends before announcing where they would be continuing their academic and athletic career.
Congratulations to these athletes:
Aden Velasquez (Baseball) UCA, Avie Singleton (Baseball) Harding University, Grace Esteban (Swim) Whitworth University, Emily Whitman (Softball) Ouachita Baptist University, Emily Titus (Softball) Southern Arkansas University, Sara Camplain (Softball) National Park College, Jenna Cook (Basketball) UCA, AbbiGrace Cunningham (Basketball) Arkansas Tech University, Ashley Imhoff (Bowling) LA Tech, McKinzee Haas (Volleyball) UCA, Riley Henson (Volleyball) William's Baptist, and Brooks Johnson (XC/Track).

Aden Velasquez will continue his athletic and academic career playing baseball for University of Central Arkansas.
Avie Singleton will continue playing baseball at Harding University. Avie was All-Conference his junior year and their team were the 6A Central Conference Champions. Avie is looking forward to meeting new people and growing as an athlete.
Grace Esteban will swim at Whitworth University next fall.

Emily Whitman is excited to get to continue her academic and athletic career playing softball at Ouachita Baptist University.
Emily Titus will continue her athletic and academic career at Southern Arkansas University and will play softball. Emily plans to major in Exercise Science with hopes of becoming a Physical Therapist. Emily can't wait to start her senior year of softball and is looking forward to making final memories with her team. Emily was named All-Conference and All-State her junior year and hopes to finish her senior year with more accomplishments.
Sara Camplain will attend National Park College next fall and continue her softball career.

Jenna Cook is excited to be able to continue her basketball career at the University of Central Arkansas. Jenna has been All-Conference two years in a row and was All-State her junior year. While at UCA Jenna plans to major in Exercise Science to become a Physical Therapist or Athletic Trainer. The basketball season has already began and she hopes for success this year and at the collegiate level.
AbbiGrace Cunningham will play basketball at Arkansas Tech University. AbbiGrace is a new Cabot Panther this school year but she has quite the accomplishments already. She was named the Tyson Player of the Year, was All-State two years in a row and All-Conference three years in a row.
Ashley Imhoff will bowl at Louisiana Tech next fall. Ashley is excited for this opportunity to grow more as an athlete. While continuing her bowling career, she also plans to major in Mechanical Engineering. Ashley has been on the bowling team since her freshman year and has been All-State for all three years! Her junior year she was the gold individual medalist winner. She plans to finish strong again her senior year with the season beginning the end of November.

McKinzee Haas will play volleyball for the Sugar Bears at the University of Central Arkansas. McKinzee will major in Nursing and would like to be an NICU Nurse one day. As a Cabot Panther, McKinzee was All-Conference, All-State, All-State Tournament Team and was Defensive Player of the Year all her junior year! McKinzee is looking forward to reconnecting with previous players from Cabot and begin her new journey both academically and athletically.
Riley Henson will attend Williams Baptist University and will play volleyball.
Brooks Johnson was our final signee of the day and he signed with Ouachita Baptist University to run track and cross country.