Cabot — First District In AR Awarded Safe Sports School Recognition For Third Time
Sep 23, 2020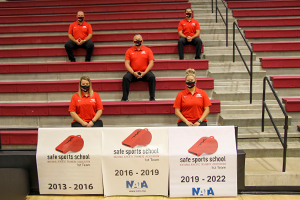 Cabot Public Schools takes pride in being the best of the best and athletic training is no different. Recently, Cabot was awarded the National Athletic Trainers' Associations "Safe Sports School 1st Team" designee for the third time!
Cabot was first honored with this three year award in 2013. At the time, Cabot was the first school district in Arkansas and the 13th school in the country to receive this award. The district was recognized for a second time in 2016. Cabot is now the first school district in the state of Arkansas to receive this recognition for the third time!


This award champions safety and recognizes secondary schools that provide safe environments for student athletes and reinforces the importance of providing the best level of athletic health care, injury prevention, and treatment.

Head Athletic Trainer Jason Cates stated, "I would like to thank the administration of CPS for the emphasis that is placed on athletic healthcare throughout our district."

Athletic Training Staff includes: Jason Cates, Head Athletic Trainer | Jennifer Asberry, Associate Head Athletic Trainer | Chad Burke, Sports Medicine Teacher/AT | Hollie Rush, Sports Medicine Teacher/AT | Wilson McKnight, Athletic Trainer.

In order to achieve Safe Sport School status, athletic programs must meet the following criteria:
Create a positive athletic health care administrative system

Provide or coordinate pre-participation physical examinations

Promote safe and appropriate practice and competition facilities

Plan for selection, fit function and proper maintenance of athletic equipment

Provide a permanent, appropriately equipped area to evaluate and treat injured athletes

Develop injury and illness prevention strategies, including protocols for environmental conditions

Provide or facilitate injury intervention

Create and rehearse a venue-specific Emergency Action Plan

Provide or facilitate psychosocial consultation and nutritional counseling/education

Educate athletes and parents on the potential benefits and risks in sports, as well as their responsibilities