CHS Homecoming Details: October 9th, 2020
Oct 1, 2020
It's that time of year when our schools and community celebrate Homecoming Week!
October 5th - October 9th is a fun-filled week that includes themed days and home football game.
The fun kicks off with Spirit Week! It's a great way for students to show off their school spirit leading up to the Friday night football game. Cabot High School students will celebrate spirit week with the following themed days:
Cabot High School Homecoming 2020: Home of the Brave
*Other schools may be participating in spirit week as well, be sure to follow your child's school on social media to check out their themed days*
"Panther Pride Red and White Day:" Friday, October 9th everyone is encouraged to show their Panther Pride by wearing "Red and White." Students and staff will be joining in on the fun and we'd love for this to be a community wide celebration. Don't forget to share your pictures by using the hashtag #CabotPantherPride
*Please note: Due to COVID-19 and regulations set forth by the Arkansas Department of Education (DESE) and the Arkansas Department of Health, we are unable to have our traditional Homecoming Parade.
2020 CHS Homecoming Royalty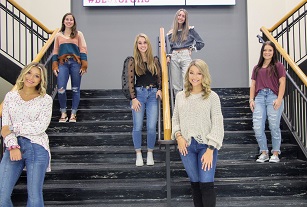 Senior Maids:
Left Picture (L to R) - Front Row: Ava Schulz, Laina Evans | Middle: Marissa Brown, Kaylee Bolen | Back: Shawnee Weatherley, Ally Smith
Right Picture (L to R) - Front Row: Kendall Jennings, Kory Lynn Jennings | Middle: Reagan Wurz, Gracie Goshien | Back: Grace Bing, Summer Daily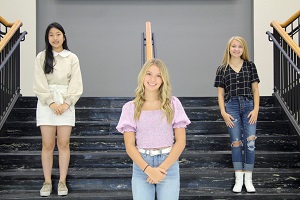 Junior Maids Sophomore Maids
Left Picture (L to R) - Front Row: Madelyn Vanwinkle | Back: Xing Zhang, Autumn Neumeier (Not pictured: Amber Alsup)
Right Picture (L to R) - Front Row: Emily Cockrell, Maddox White | Back: Megan Moudy, Carys Shock
2020 CHS Sweethearts
Click HERE for a full list of Sweethearts
Homecoming Football Game & Tickets: The Cabot Panthers will play the Conway Wampus Cats Friday, October 9th at 7:00 p.m. at Panther Stadium. Admission is $5.00 and ALL tickets will be sold in advance in the CHS Athletic Office (79 S Pine). Tickets will go on sale to the public on Wednesday, October 7th at 7:45 a.m. and will remain open until tickets are sold out. Tickets will be sold Monday-Tuesday to participants (football, band, cheer/dance, homecoming court) and their families.

Please remember, all safety protocols including wearing face coverings and social distancing must be followed. All home varsity football games will be live streamed on the radio at Cool 104.7 and by our CHS broadcasting students and can be seen on our Cabot Panthers Athletic App and CHS Youtube channel.